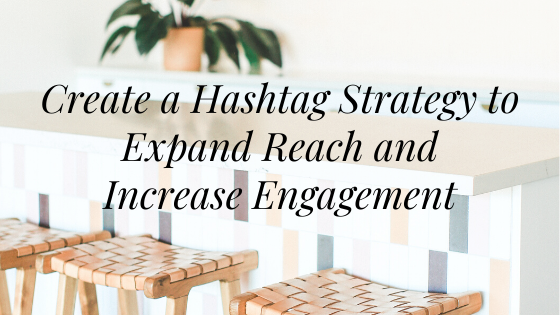 Using hashtags is one of the most effective ways to expand your reach, attract your ideal client, gain followers and increase engagement organically. But throwing a soup of hashtags on every post without having a strategy behind it is not the right way to approach it.
For one, Instagram is getting more sophisticated with their algorithm and will recognize if popular hashtags are being added to a post that are not relevant at all to the post. Plus, once someone finds your post via a non-relevant hashtag, they will quickly learn they are not in the right place. So your efforts go to waste.
So what is the right hashtag strategy. Well, let's start with Instagram, since this is the platform where the use of hashtags is most prevalent, given that they allow up to 30 hashtags per post. Some experts will say use all 30. Yet an Instagram employee at a conference I attended last year said, stick to 6ish.
Ideal number of hashtags per post, according to research
I did a little digging regarding what the ideal number of hashtags per post is to receive the most engagement and I was a little surprised. It varies by platform:
9 for Instagram (this is the magic number according to TrackMaven)
1 for Twitter (receives the most engagement compared to posts with more)
2-3 for Facebook
4-5 for LinkedIn
As you can see, 30 hashtags per post for Instagram, is far from what actual research proves is ideal to receive the most engagement per post.
So what should those hashtags be?
For Instagram:
3 top relevant to your post
3 that will find your ideal client, not your competitor (ie: use #ineedanassistant vs. #virtualassistant)
3 for location or industry you're trying to reach
Now, you may choose to test using all 30 hashtags, or simply decide that's the way you want to go. Then I would recommend the following:
15 top relevant and top related hashtags
10 that will find your ideal client, not your competitor
5 for location or industry
For Facebook and LinkedIn:
Most relevant hashtags to your post, 2 to 3.
For Twitter:
Your one most relevant hashtag.
Curious to know, how many hashtags do you use per post? What has worked the best for you?
If you're struggling with reaching more of your ideal clients or you're not increasing engagement on your social media posts, this cheat sheet is for you. Every month I update this FREE Monthly Holiday Cheat Sheet to correlate with the National Holidays for that month. These are most relevant and top related hashtags for each holiday! I do the research every month and provide it to you in this FREE download. That's over 150 hashtags each month and will save you hours of your time. Sign up to download it once and receive each month's cheat sheet in your inbox.