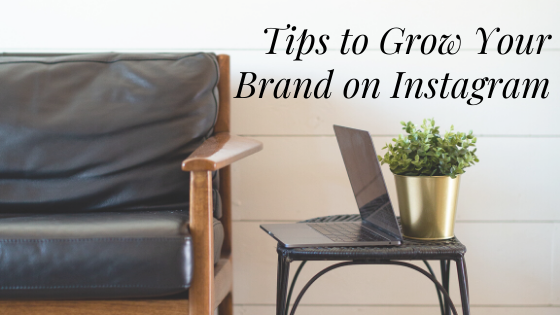 It is no longer about the number of followers you have that count to grow your brand on Instagram, it's about the conversations that you have. Followers are vanity metrics. They don't serve a purpose, unless they're buying from you. And with so much noise these days, the best way to grow your brand on Instagram is by proactively having conversations with our ideal clients.
"Conversations are the new conversion" – Sue B. Zimmerman
But before you start planning your content and conversations, make sure your branding is on point.
And once you're ready to start having conversations, be sure to check out the 3 Simple Strategies to Attract & Engage Your Ideal Clients on Instagram.
Branding on Instagram
The look and feel of your account is recognizable, memorable and unique to your business. Haven't you ever been scrolling through and a graphic catches your eye and you instantly know whose account it belongs to because the branding is consistent? That's what you want….your audience to know that's your look. So you're top of mind when they need your product or service, or a friend asks for a recommendation.
When you're thinking of branding, these are some defining things to think about to have our account have that look and feel that represents your business and create a lasting impression:
Color
Design features
Lighting and filters
Props- What are you known for? Wearing hats? Having a letterboard on your hand? Fancy coffee?
What is very important is to have consistency throughout all the areas on your account. That your brand is represented the same for all.
"Consistency is Key"
If you need help creating a brand look for your Instagram account, schedule a Clarity Call with me so I can introduce you to my Instagram Brand Makeover package.
The 4 main areas to produce content & have conversations on Instagram to help grow your brand
Feed
Stories
Insta Live
IGTV
You need to be posting with a purpose. Create a strategy rather than just throw something up on your feed because you feel you need to.
FEED
You need to have a look that is on-brand with your identifiable colors, features, look, design, etc. Your feed is your "portfolio", supporting your authority. Your posts can introduce content that you can reference later.
Each post has it's unique URL so you can share it anywhere. And it stays live forever. You can archive and you can bring it back later if you want to.
Content Ideas:
Before and afters
Show off your process or past work
Introduce your staff members
Share information about your credibility in the industry
Feature a cause that you believe in or fundraise for
Tell them about yourself
Share your why
Provide benefits of your products and services
Offer encouragement and inspiration
These content ideas all contribute to your credibility and authority and allow your audience to get to know, like and trust you over time.
Tactics:
Calls to Action – Tell your audience exactly what you want them to do. It is not their responsibility to do that.
Leave a comment if you…
Double tap this post if you agree.
Tap the link in my bio to get more information.
Comment below with the emoji that best explains how you feel.
Head on over ot our Instagram stories to see XY and Z.
Learn more about our services with the link in our bio.
DM me. I'm just a DM away.
These are ideas for hashtags you can use to help grow your brand:
Categories of identity- categories in which you identify or that your ideal clients identify with.
Location- location that you do business in or where your ideal client are located. Places where you want to be discovered.
Emotion- emotions you elicit from your product or service, or emotions that resonate with your ideal clients.
Events- events or conferences specific to your industry/ interest or specific to the industry/interest of your ideal clients.
Product- categories in which you identify or that your ideal clients identify with.
Make sure to download my FREE monthly holiday hashtag swipe file HERE. With over 150 most relevant and top related holiday hashtags every month, you'll increase your reach and exposure, and have social media post ideas for the whole month.
DO NOT use hashtags that do not align with your post.
INSTAGRAM STORIES
This is a feature that lets users post photos and videos that vanish in 24 hours.
You can share images and video in a more authentic way and can be lower quality. It doesn't have to be so curated. This is where you can shake things up. Post dynamically with various mediums and exploring all the embellishments and stickers available to create engagement.
Content Ideas:
Show a day in the life of you or of a successful client.
Give a step by step of how to do something related to your offerings.
Give a flash sale or announce a discount.
Take polls or use question stickers to get feedback on offerings and experience.
Announce content release in another neighborhood or in your feed.
Explain your registration process, or your how you take your client through your process for your service.
Tactics:
Use text on each story, especially when using video. Most people are watching without sound on, so make sure they see text so they know the context.
Include an engagement sticker to isolate your warm followers. This is the best tactic because you can see who responded and know that these are your warmest leads. You can cater to them and learn what they need from you from their responses:

Poll
Questions
Challenge
DM Me
Countdown
Slider
Quiz
Food orders
Gift cards
ProTip: 80% of IG users watch Stories on mute. Use text on a story and instruct your followers to "hold down to read".
INSTAGRAM LIVE
Lets users broadcast on live video to their followers. Your followers can interact with you while you're live, and the video replay can be made available on IGTV, no longer in stories.
A live broadcast can now be over an hour with no limit to the number of viewers you can have.
When you're doing an interview, both users audience gets notified. So your reach is even larger for both users.
You can use functions such as question stickers and donation stickers.
Right before you go live you can add a Title to your Live video.
When should you be using live?
When you're looking for immediate live interaction or feedback.
For interviews and collaborations.
You can document in-the-moment, time-sensitive content or longer video commentary.
Content Ideas:
Show the start to finish of an experience
Tour of your facility and any new features you add to your process
Video interview with members getting results
Feature brand collaborations + partnerships
Host a Q&A with your customers answering FAQs on your programs
ProTip: Repurpose live footage to get more out of your time spent producing content.
IGTV
You can do videos from one minute to about an hour long. This content stays on your account forever. All links in IGTV are live, so it's a great place to add CTAs to your content elsewhere.
Content Ideas:
Explain why you started your business
Demonstrations
Detailed how-to's
Meditations
Breathing exercises
Interview clients
Answering FAQs that need a longer explanation
Share about the tools and techniques you use in your business. Ie: EFT, soundbowls, essential oils, crystals, etc.
ProTip: Share the first minute of your IGTV to your feed for maximum exposure – this must be done when uploading. They will be led to finish watching the video on IGTV.
I hope these tips have provided some ideas on how you can increase the growth of your brand. Which tip will you start with today?
Don't forget to check download your guide to start engaging your ideal clients.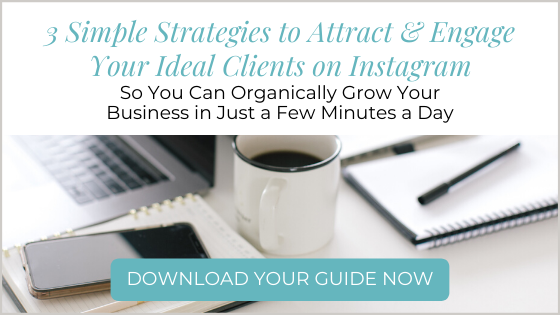 Inst