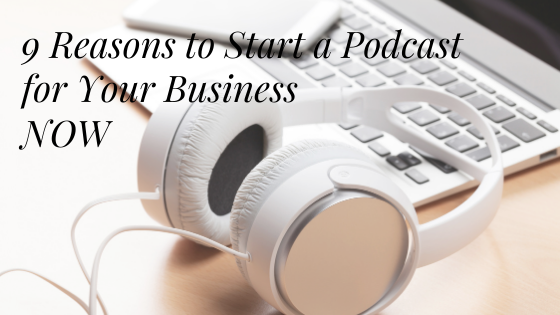 If you're a podcast listener, podcasts have very likely changed your life. I know it has for me. It is the best way to sift through the topics and hosts that interest me, and listen at my convenience.
And if you're not a podcast listener, you're missing out!
If you're thinking of starting a podcast or wondering what the benefits are, here are some reasons to hit the record button.
Convenience and Flexibility
People listen while on a walk, working out, gardening, doing chores, while at work, running errands, driving and while getting ready in the morning. It is one of the easiest and convenient ways to consume information or be entertained. Reading blogs and watching YouTube videos are not conducive to these activities.
Podcasting is in its Infancy
So I know what you're wondering. Isn't the podcasting world oversaturated?
There are over 500 million active blogs.
There are 43 million active YouTube channels.
There are 1 million podcasts (as of April 2020).
So although it seems saturated because everyone is doing it right now, podcasting is still in it's infancy. Those that get in early are going to benefit the most.
NOW IS THE TIME TO DO IT!!!!
Seth Rogin recently said "Podcasting is the new blogging".
Podcasting Continues to Gain Popularity
With the onset of celebrities starting their own podcasts, they're introducing new people to the podcasting world.
There is Room for Everyone
On average podcast listeners subscribe to 7 different shows and sometimes even in the same category. So the idea that you would have to replace "the competition" is not valid. There is room for all of us.
Grows Your Audience
I have also seen so many relationships develop through podcasting. I've seen podcasters interview one another on their podcasts, introducing each other to a new audience. I've seen relationships grow from there and collaborations created. This creates an opportunity to grow your listeners and introduce them to your brand.
Being a guest on someone's podcast has proven to be the most effective way I have helped my clients, both podcasters and non podcasters, grow their social media accounts, their email lists and even gain new business.
Holds Your Audience's Undivided Attention
On social media, you're lucky if you can keep someone's attention for a minute. On blogs, you may be able to keep someone's attention for 4-5 minutes while they skim through the details of what they're looking for.
On a podcast, you'll typically keep a listener's attention for 30 minutes, 45 minutes and even 60 minutes! Mind blown yet?
Builds An Intimate Relationship With Your Audience
You can't get in front of an audience and have this close intimacy with them anywhere else.
Think about it, you're talking to them in their ear for the entire length of your episode. It feels like an intimate one on one conversation and they're getting to know you, your experience, your brand, your energy and your personality.
Establishes You as an Expert in Your Field
Podcasting gives you the opportunity to establish yourself as an expert in your field. Because you are intimately in the listener's ear for an extended period of time, you start building trust with your listeners. It is one of the most effective ways to get your listeners to know, like and trust you, which is the formula to gain their business or referrals.
Promote your Programs
Podcasting is a great way to promote your programs and campaigns. Once you've established yourself as the expert and earned the listeners' trust, it is much easier to get them to try your products and services. You have their attention for a good 30 to 60 minutes, enough time to talk about your promotion, the problem it solves, the solution, the benefits, how to participate and you can even include testimonials or share how your program has helped others. You have the ability for higher conversions.
It is a commitment. I'm not going to lie. This needs to be consistent. It doesn't have to be daily, or even weekly. But you do need to show up consistently so your audience learns to expect you and anticipates your next podcast episode.
I LOVE PODCASTS so much that I now help overwhelmed female soulpreneurs launch their podcasts and produce them on a monthly basis.
If the idea of starting a podcast overwhelms you, or if you're currently a podcast host and find yourself completely buried in other commitments, overwhelmed by all the things or finding yourself not being consistent, book a call with me here and we can talk about the services we offer and determine if we can help you eliminate the overwhelm and get back to doing the things that bring you joy.